DESCRIPTION :
Bockheed Brake Fluid DOT3  is  a high quality synthetic brake fluid and clutch fluid conforming to the DOT3 specifications and based on polyglycol type fluid that is a general standard used in worldwide automotive brake equipment.

SPECIFICATIONS:


High wet boiling point.
Excellent low-temperature stability.
Excellent corrosion protection.
Compatibility different rubber seals.
Good temperature viscosity performance.
Excellent thermal stability.
TYPICAL PROPERTIES :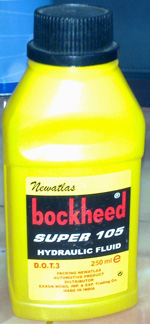 S.NO.
Test Parameter
Specification for Brake Fluid DOT3
01
Appearance
Clear color liquid
02
Density
1.03
03
ERBP, °C
205 min
04
Flash point,COC, °C
135-150
05
Wet ERBP, °C
140 min
06
pH (1:1 in 80 ml ethanol +20 ml water)
7.0 - 11.5
07
Kinematic Viscosity @ 100 ° C
1.5 Cst min
08
Kinematic Viscosity @ -40 ° C
1500 max
09
Bubble flow
10 sec. max
*Data given above are typical properties and may vary slightly.
PERFORMANCE :
SAE  J1703          

APPLICATION:

Suitable for passenger cars, trucks and buses that require synthetic brake fluid.
Always follow equipment manufacturer's recommendation for required brake fluid performance level.